Talent Development Roundtable Unveiled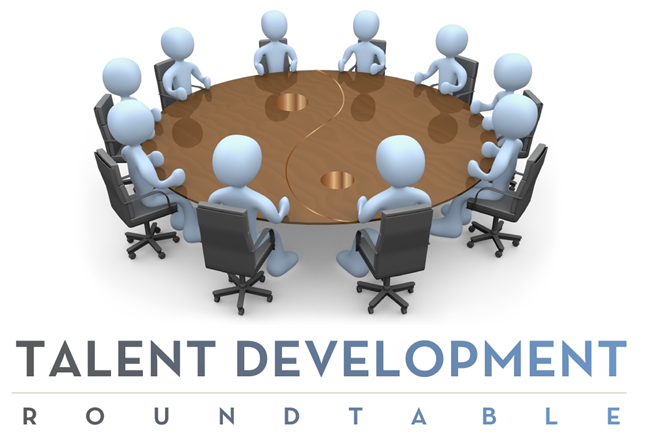 A new, by-invitation-only organization has been announced.
The Talent Development Roundtable is a group of private communities for the most senior-level L&D executives. (The Roundtable also operates a parallel group of private communities for L&D managers.)
Think G100 for CLOs.
What Makes This Different?
Rather than a large-group format with a revolving door of participants, Roundtable members are curated into intact cohorts of fifteen-or-so executive peers. That consistent group of members meets every other month over breakfast for closed-door discussions about emerging trends, opportunities, and challenges. By meeting regularly as an intact cohort, members build rapport – an intimate community of thought leaders that serve as trusted advisors and peer-coaches to one another.
Subject matter experts such as noted authors and speakers will participate as invited guests, when members feel that their inclusion will add to the discussion.
The concept was beta-tested with the participation of Blue Cross Blue Shield, Deloitte, Deutsche Bank, JPMorgan, New York Life Insurance, Pfizer, UNICEF, and Viacom, among others.

Value Propositions
Some of the value propositions that set the Roundtable apart from other resources include:
• Intact Community of Trusted Peers: Members are nominated by other members, and are curated into cohorts of up to 20 participants that share a similar profile, similar responsibilities, and are in the same geographic area. Thus, members forge close, trusting, symbiotic relationships with fellow leaders – an invaluable resource when one is an executive who is supposed to have all of the answers.
• Member-Driven Content, Thought Leadership, and Peer Coaching: The Roundtable's format encourages cohort members to explore the topics and best-practices that matter most to them. Rather than observe, members serve as thought leaders, sounding boards, and advisers to one another through robust, closed-door conversations.
• Timely Meetings – Each cohort meets every-other-month in a compact breakfast format, providing members the opportunity to tackle challenges and explore opportunities as they surface, with minimal time investment and maximum value.
In between meetings, members have access to a robust website that offers a suite of valuable members-only resources, including a consolidated industry calendar, thought leadership, discussion boards, job postings, and other tools designed with the CLO in mind. Additionally, they will have the opportunity to network with members outside of their cohort and beyond their geographic region.
While there are other fine organizations in the L&D space, the Talent Development Roundtable offers a distinct value proposition – something that is uniquely tailored to meet the specific needs of the senior-level Talent Development executive.
The Roundtable is launching in New York and in the Bay Area, with plans to expand to several other cities next year.

How to Join?
If you are interested in joining, please contact Consensus. Qualified applicants must be nominated by current members, and the Consensus team are members – we can nominate you!
For more information, visit www.tdroundtable.com.