Consensus Speaks at AmCham Austria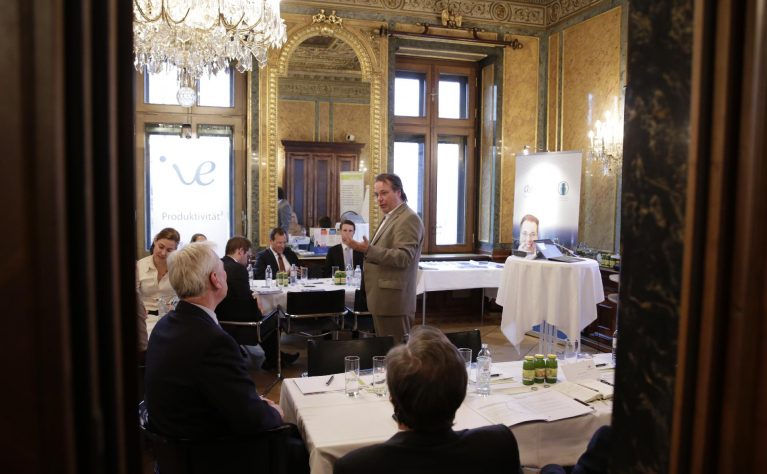 Earlier today, the American Chamber of Commerce in Austria (AmCham Austria) convened a private event for some of Vienna's leading business executives.
Executives from global organizations (e.g., Citibank, Pfizer, PWC) and regional powerhouses (Raiffiesen, Schoellerbank, & Kempinski Hotels) gathered for a Negotiation Summit.
AmCham General Secretary Daniela Homan kicked off the even with some welcoming remarks. Then, she underscored the importance of participants' successful negotiations at this juncture in the the country's history. "They will determine Austria's economic growth!" Then, she introduced program's guest speaker, Göran Askeljung, the director of Consensus Austria.
For the following two hours, Mr. Askeljung shared the latest breakthroughs in negotiation theory. He presented and analyzed case studies about deadlocked negotiations. He then demonstrated how Consensus' thought leadership in negotiation could unlock and resolve those stalemates.
Response was overwhelmingly positive. Some of Vienna's most seasoned business leaders were candid about being enlightened by the session.
Said one executive in attendance who preferred to remain anonymous, "You rise to higher and higher levels of management over a career. And, at each step you take on more responsibility for negotiating important agreements. Just when your are confident that you have mastered the task, you meet a true expert like Mr. Askeljung who reminds you that – even at the most senior levels of business – there is room for self-improvement and even better business results."
About AmCham Austria
AmCham Austria is committed to the expansion and strengthening of trade and economic relations between Austria and the United States. It plays a dual role. The AmCham Austria takes over the tasks of an active advocacy by U.S. companies with offices in Austria and Austrian companies with economic relationships and interests in the United States. On the other hand, the Chamber promotes new business connections of American companies in Austria and vice versa.
AmCham Features Consensus Austria at Negotiation Event