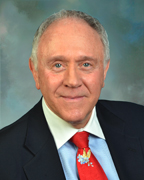 Michael Wolff
Deceased

Michael Wolff was a Senior Consultant and former Partner with EisnerAmper, and had an extensive background in management consulting, organizational effectiveness, personal development, motivation, and creativity.
Michael spent five years as President of InteleTravel International, an organization he co-founded, where he capitalized on his knowledge of travel industry management and organizational effectiveness to create a revolutionary travel agency concept providing a totally new distribution channel for travel. Previously, he was President of Productivity and Profit Improvement Associates, an international organization of training and performance management consultants. He has been a Partner and Associate National Director of Client Services for Touche Ross & Co., and Retail Industry Manager and Sales and Marketing Manager for Control Data Corporation, holding a similar position with the IBM Service Bureau Company.
Michael was a consultant to many companies where he guided management teams with the development of their business and marketing plans, identified weaknesses in organizational structures and provided recommendations to strengthen their infrastructures. As a proven leader and positive role model, he designed and implemented many of the soft skill training and development programs within EisnerAmper University as well as customized them for clients, and was the Dean of the Professional Development College.
Michael served on the International Business Development Committee of PKF International. He was on the board of the Manhattan Chamber of Commerce (MCC), Massachusetts Institute of Technology (MIT), and the Association for Corporate Growth (ACG) New York. In addition, Michael was the New York HUB Leader for the G20 Foundation (G20).
Subject Matter Expertise
Management Consulting
Organizational Effectiveness
Personal Development
Motivation
Training
Business Development

Experience
Partner, EisnerAmper
Partner, Touche Ross & Co.
Director, Manhattan Chamber of Commerce