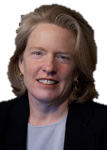 Susan Coleman
Assoc. Principal

Susan Coleman works with a variety of executives and senior professionals within global organizations, smaller businesses, governmental offices, non-profits, and non-governmental agencies throughout the Americas, Europe, Africa, Asia, and the Middle East. In addition to her work at Consensus, she is a partner in C Global Consulting (a strategic partner of Consensus), and teaches graduate-level courses at New York University.
Susan began her career as a commercial litigator. Upon transitioning to alternative dispute resolution, she developed an expertise in intercultural negotiations and organizational, business, and community mediation. Her notable engagements include mediating a dispute between warring faction in Iraqi Kurdistan, serving as an on-call mediator for the UN Ombudsmen and Mediation Services, and designing a global conflict resolution program for the United Nations Secretariat which she delivered worldwide.
A seasoned facilitator, Susan designs and delivers skill building engagements for private, public, and non-profit sector audiences. The online assessment that she developed to analyze negotiation and conflict communication behaviors has been instrumental in helping professionals across various regions and industries gain better understanding of themselves in terms of collaborative relationship management. Similarly, the intercultural training materials that she helped develop have been translated into six languages, and are used throughout the world.
A gestalt and ICF certified coach, Susan received her Master in Public Administration from Harvard, and her law degree from Hofstra University.